Is a product where in addition to the aesthetic side, our technicians have managed the functions and details, trying not to leave anything to chance.
In order to provide a wider range of application, we have created a double flange on every knife...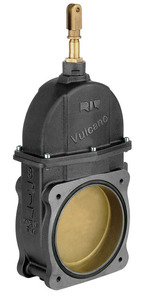 Die wesentlichen Eigenschaften des neuen Absperrschiebers "VULCANO" sind: Eine massive Struktur, ein hohes, internes Fassungsvermögen und vor allem eine perfekte Dichtigkeit.
Als wir dieses neue Produkt entwickelt haben verfolgten wir die Absicht...